SEETEST 2023 experience
10 Oct 2023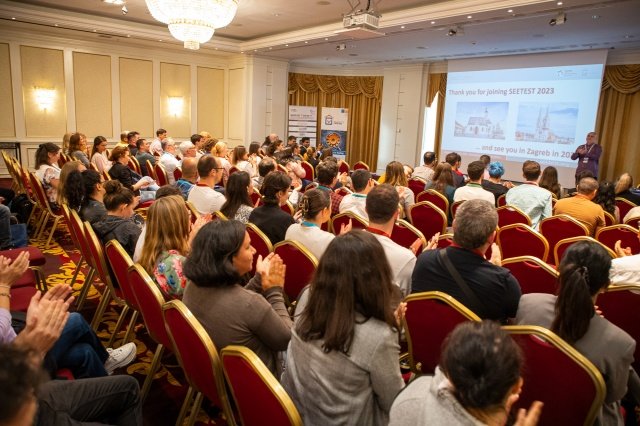 This fall SEETEST 2023 returned to Bucharest, Romania for its 12th edition. The conference took place on 19-20 in the five-star JW Marriott Bucharest Grand Hotel, but also online, continuing its Hybrid format for another year. Every year, the conference tries to break records when it comes to attendance. This time not only is it boasting more than 670 participants from 32 countries, but also a record number of participants from countries outside of South East Europe!

The gorgeous JW Marriott Bucharest Grand Hotel was the conference's host venue this year, impressing everyone with its style and feel, while Bucharest charmed attendees with its old-style beauty and vibrant youthful energy. And of course, the traditional Social event, which took place in the magnificent InterContinental Athénée Palace Bucharest.

Again, the official organizers – SEETB and Quality House, excelled in the quality organization of the conference. The event started unofficially on September 18 with three full-day pre-conference courses – Using and Choosing Test Techniques by Dr Stuart Reid, Test design with Data Combination Testing and Classification Trees by Rik Marselis, and Introduction to Security Testing by Predrag Skokovic. They were all a great way for participants to dive deeper in those topics and learn from some of the best in their field. And of course, warm up for what was coming the next day!

The first day of the conference – September 19 – boasted four half-day tutorial in the morning and four in the afternoon. The day started with 'Create your own quality engineering strategy' by Rik Marselis , 'Test Design: "The heart of good testing" by Pablo Garcia Munos, 'Testing Machine Learning Systems' by Dr Stuart Reid and 'Automation in Testing - Design Patterns for Optimal Approach' by Predrag Skokovic. The afternoon continued with a lot of fun in 'Collaborative Test Design' by Michaël Pilaeten and Wim Decoutere, 'The 10 behaviours of effective employees' by Rob Lambert, 'API Test Automation 101 (Introduction)' by Joel Oliveira, and 'Let's build a Continuous Quality Assurance Strategy around your CI/CD pipeline' by Szillard Szell.

The evening continued with the traditional Social event, which this time took place in the gorgeous InterContinental Athénée Palace Bucharest. With a legacy of over 100 years, InterContinental Athénée Palace Bucharest is steeped in culture and heritage, overlooking the George Enescu Square. The hotel's historic lobby, Les Colonnades, with its marble columns and chandeliers is a symbol of Belle Époque architecture and The Le Diplomate Ballroom is a national heritage monument. The Romanian group The Monkeyz kept the party going all night and made everyone get to the dancefloor!

The second day of the conference on September 20 continued with our talented session speakers who gave presentations on topics from Agile Testing, AI in Testing and Cloud Testing to Test Automation, Test Management and just Testing in General. This year the Program Committee again had a hard job choosing the best presentations, seeing as there were more than 70 Paper submissions from 24 countries.

The day also included two Keynote presentations – by Rik Marselis talking about 'Sustainability – the new quality characteristic' and Pablo Garcia Munos with 'How to make critical projects successful?'. Three industrial slots by sponsors also took place – by Visteon Corporation, Luxoft, LSEG and one of the conference's organizers – Quality House.

Once again SEETEST gave their traditional Best Paper and Best Presentation awards. Best Paper is chosen by the Program Committee out of all Paper submissions for the second conference day – this year the winner was Alexander Ganster with 'Leveraging ChatGPT for Enhanced Test Case Creation and Business Engagement in Software Testing'. Best Presentation was voted in by attendees – the vote of the people overwhelmingly went to Sanne Visser with 'Seven ways to collaboratively assess product risks. No 3 will surprise you!'. And of course, a lot of prizes from SEETEST as well as organizers SEETB were also given out. Congratulations to all winners!

The organizers of SEETEST 2023 would like to extend their sincere gratitude to all their sponsors who supported them throughout this year – Visteon Corporation, Luxoft and EPAM Systems!

A big thank you goes out also to every Participant that joined the conference and the whole support team – thank you for making this experience happen and see you next year, where for the first time we will be in Zagreb, Croatia!
Back to News