Black Friday ISTQB Discounts at SEETB!
10 Nov 2023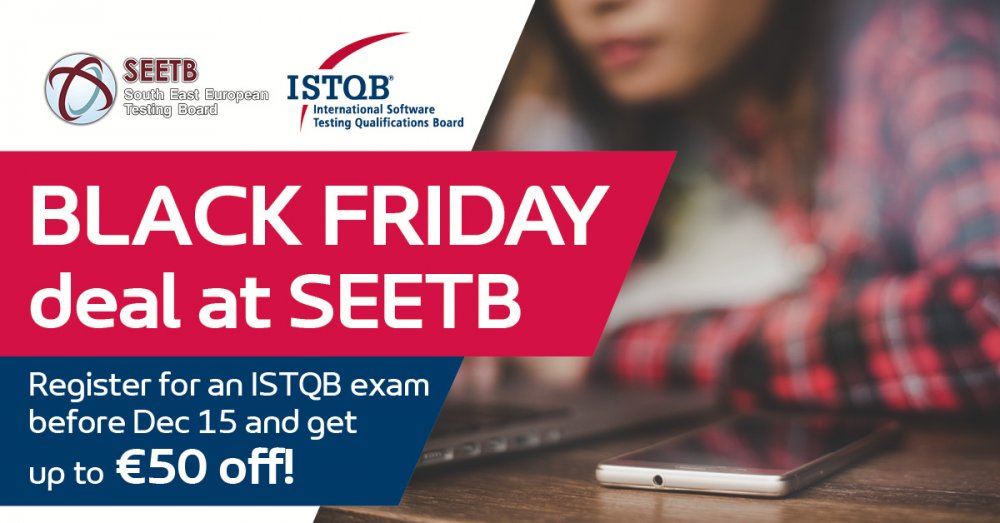 The holiday season is here, and at SEETB, we are thrilled to bring you a special Black Friday offer that will help you take your career to new heights. Our Black Friday discount campaign for ISTQB exams is now live, and it's the perfect opportunity to invest in your professional growth and set yourself up for success in the world of software testing.
Your Path to ISTQB Certification Starts Here
We understand the value of ISTQB (International Software Testing Qualifications Board) certification in the fast-paced tech industry. That's why we're excited to offer substantial discounts on ISTQB exams to help you achieve this qualification.
Black Friday Discount Details
Save up to 50 EUR on ISTQB exams! The discount amount varies depending on your country and the type of exam you're planning to take. This campaign is only valid for Bulgaria, Romania, Serbia, Croatia, Slovenia and Bosnia and Herzegovina.
Hurry, this exclusive offer is available until December 15th, 2023.
Your Journey, Your Way
At SEETB, we believe in flexibility. When you participate in our Black Friday campaign, you can sign up and pay for your exam until December 15th, 2023. But that's not all - you have the opportunity to sit your exam at your convenience until June 30th, 2024. This allows you to prepare and schedule your exam according to your own timeline.
How to Get Started
Getting started on your journey to ISTQB certification is easy:
• Explore the available ISTQB
exams
.
• Select the exam that aligns with your career goals and interests.
• Check the calendar in your country for a suitable exam and date
• Sign up and pay for your exam by December 15, 2023, to enjoy the Black Friday discount.
Your Career Transformation Awaits
ISTQB certification can open doors to new opportunities, increase your earning potential, and enhance your credibility as a software testing professional. With our Black Friday discount campaign, we're here to support your aspirations and make the journey more accessible.
Don't miss out on this incredible opportunity to elevate your career. Start your journey to ISTQB certification and enjoy the benefits of our Black Friday discounts.
For more information, exam details, and to take advantage of this limited-time offer, visit our website or contact us at
info@seetb.org
Stay tuned for more updates and exciting offers from SEETB as we continue to support your professional development in the world of software testing.
Back to News