SEETEST 2016 ended with a tremendous success!!!
04 Nov 2016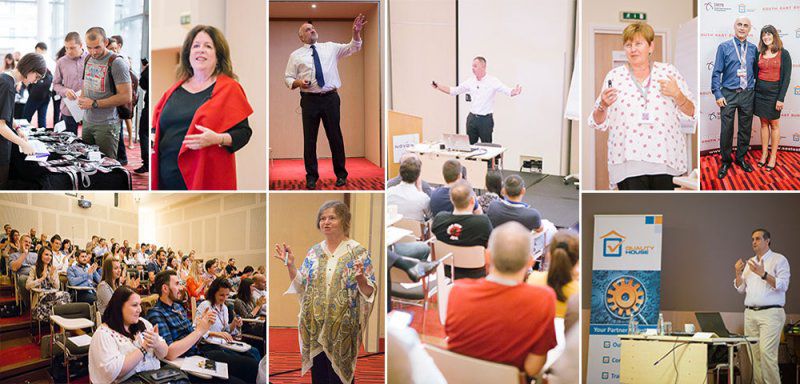 The Fifth South East European Software Testing Conference - SEETEST 2016, which took place in Bucharest, Romania, on September 15-16 ended successfully, leaving us new knowledge and many good memories.
This year more than 220 specialists in the area of software testing and software quality management took part in the event.
The organizers (
SEETB
,
Quality House Ltd.
and
ANIS
) would like to thank the speakers, the sponsors, the participants, the program committee, the supporting organizations and the media partners for making the conference one of the top events in the IT area for the South East European Region.
We would like to thank to our international speakers for their excellent tutorials and keynote speeches:
• Isabel Evans, Quality in use: the beating heart of the user experience (Independent Software Testing Consultant, United Kingdom)
• Erik van Veenendaal, Building on Success – Beyond the Obvious and Discount Usability Testing (Improve IT Services BV, Bonaire)
• Clive Bates, Success from Failure (Managing Consultant Experimentus, UK)
• Linda Lemieux and Jen Leger, Gaming Testing: Video Games and Casino Games (BMM Test Labs, Canada)
• Yaron Tsubery, Mobile Testing (Enghouse Interactive Ltd, Israel)
• Patricia McQuaid, Best Practices for Independent Quality Assurance of Major IT Projects and Test Design Techniques (Professor of Information Systems at California Polytechnic State University, USA)
Their keynote and tutorial sessions presented at the conference provided an opportunity to gain knowledge in software testing and software quality management fields and also were a good ground for exchanging experience.
We would like to thank to our generous sponsors - The International Software Quality Institute (iSQI GmbH), Endava and Waters which contributed in making SEETEST 2016 such an exciting experience.
The Program Committee (15 members from 8 countries) has done an excellent job in the selection of the presentations for the Conference Day – special thanks for their commitment and choice! Out of over 40 paper submissions from 14 countries, i.e. Romania, Norway, Greece, Bulgaria, Hungary, Germany, Serbia, Czech Republic, Austria, India, Turkey, Belarus, Latvia and Sri Lanka, the Program Committee compiled an excellent conference day program addressing a broad range of topics in software quality. They also managed to show to all the participants in SEETEST 2016 that the QA specialists from all over the world face similar problems in their everyday work.
Special gratitude to the supporting organizations – BASSCOM, BAIT, HUSTEF, MASIT, Testwarez, testerzy.pl, Vojvodina ICT Cluster, Test'RS Club, CEEOA and CROZ. We appreciate very much the help of the media partners of the SEETEST 2016 – Quality Matters, Software Testing Magazine, Methods and Tools, Crowd Reviews, Codette, OWASP, Girls who Code, Girls in Tech, softlead, DevAcademy, AGORA, The Hack, TechHub and IT Channel.
Last, but not least – a big "Thank you" to all the participants in SEETEST 2016 from Austria, Bonaire, Bulgaria, Canada, Croatia, Czech Republic, Finland, France, Germany, Greece, Israel, Macedonia, Norway, Poland, Portugal, Romania, Serbia, Slovenia, The Netherlands, UK, Ukraine and USA.
Without you all we would not have been able to succeed in making the event so enjoyable!
Join us on 28 -29 September 2017 in Sofia, Bulgaria.
Thank you!
Back to News